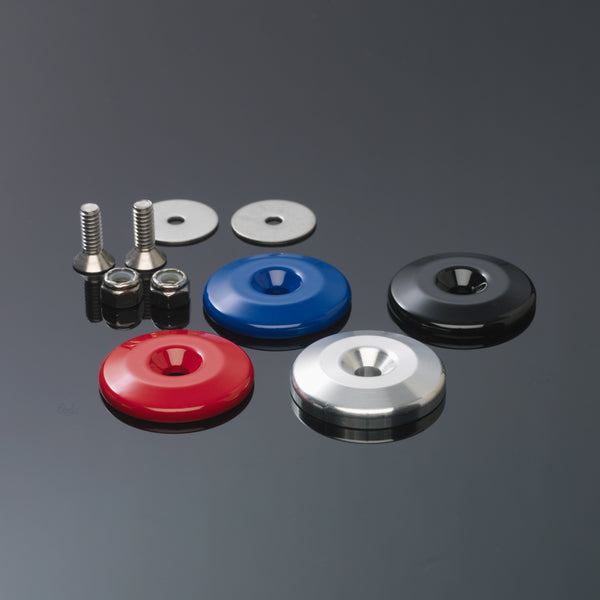 Trail 15 Hood Bumper Deletes (Smooth)
Proudly Made in the U.S.A.
Are you installing a new hood blackout and removing your hood bumps or just want to streamline you hood? When was the last time you put your windshield down?
Jeep wrangler TJ and JK model hood bumps really do not serve much purpose since you will not see anyone with a folded down windshield. Eliminate the large useless hood bumps with our hood bump delete kits. 
Trail 15 Hood Bumper Deletes replace the OEM Rubber Hood Bumpers. Please note, the disc does not provide any cushion for folded windshields. If you drive with your windshield folded, this product is not for you. Buy it for looks only.
Made out of Aluminum, these are sold in pairs and come complete with stainless installation hardware and rubber gaskets to protect your hoods painted finish. You can choose from 2 different styles in either a bare aluminum or 3 powder-coated finishes. They use the existing holes, so no drilling is required.
*As with all of our products Hood Bumper Deletes are designed for off-road use only, compatibility with OEM systems.
Fits: 1997-2017 Jeep Wrangler - oem hood that fit hood bumpers. Hard Rock hood will need longer bolts not provided at this time.