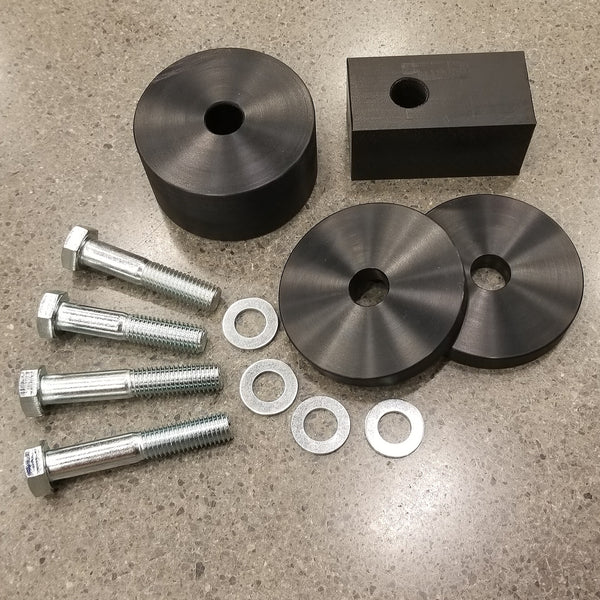 Trail 15 JKU Front Seat Lift Riser
Proudly made in the U.S.A.
FEATURES:
Lifts and slightly reclines front seat for an improved and more comfortable ride
Compatible with Jeep Wrangler JKU 4-Door model years 2007-2017
Will work on either driver or passenger side. (

If you want to lift both, two kits are required

)
Solid blocks CNC machined from Highest strength UHMW polyethylene; black finish.
Includes four high grade bolts and washers for installation (bolts and washers are silver in color)
Easy installation, NO special tools required
This provides everything you need to modify the front seat of your Jeep into a higher more comfortable position. With the stock seat there is not much support under your knees and it can feel like you are sliding forward out of your seat. Our kit will allow you to gain approximately 1 Inch of height overall and a slight recline back to give you a better vantage point and more support under your knees. The front of the seat will lift 1.5 Inches and the back of the seat ½ Inch.  Slight recline makes a huge difference in comfort. We tested and verified this makes a much more comfortable riding experience for driver or passenger. This kit will lift either the driver or the passenger side. If you want to lift both seats, two kits are required. Upgraded longer bolts are included, OEM quality and strength.These blocks have a black finish that will blend in with standard interiors.
MATERIAL:
Our spacers are CNC machined from highest quality polyethylene solid UHMW blocks. This is the best non-metallic material. Durable and super strong, will not chip or crack. Corrosion and water resistant. It was well tested on our own to ensure the perfect fitment. Chamfered holes. 
CONTENTS:
One (1) 1-1/2" H Round Spacer Block for Front Left Bracket (black)
One (1) 1-1/2" H Rectangular Spacer Block for Front Right Bracket (black)
Two (2)  ½" H Round Spacers for Rear Brackets (black)
Four (4) factory quality, high-strength, Grade 10.9, standard metric M-12 bolts (silver)
Four (4) high-strength washers (silver)
INSTALLATION:
Compatible with all Jeep Wrangler JKU 4-Door model years 2007-2017
Easy installation requires no special tools just a 19mm Socket, 18mm Socket, and Socket Ratchet. However a breaker bar or impact gun will make installation easier and is recommended to remove factory bolts but not necessary. Spacers install under front seat brackets; the taller 1.5" Tall round spacer installs under the front left bracket using the longer bolt and washer. The 1.5" Tall rectangular spacer installs under the front right bracket using the longer bolt and washer. The two short ½" tall round spacers installs under the rear brackets using the short bolts and washers. Bolts pass all the way through spacers and thread into place.